Vivid Black Circus Club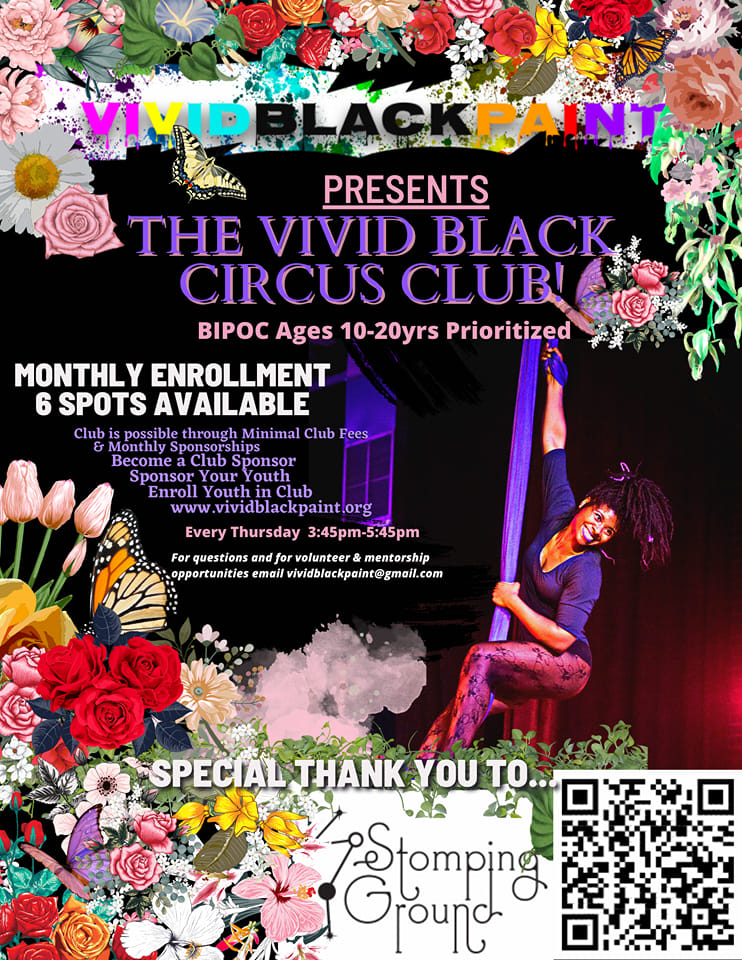 Vivid Black Circus Club is an opportunity for black and brown youth, ages 10-20, who are interested in exploring the world of circus arts with a wellness and career concentration.
For club days, we will work on skills, learn theory, play with foundations in various areas of circus arts. We will also have peer-to-peer mentorships, future performance, and volunteer opportunities. We will talk about health, community, self-care, self-advocacy, exploration, creativity, and of course, circus arts.
The monthly membership is $50. You must sign up each month for the whole month. The club meets every Thursday from 3:45pm – 5:45pm. There are 6 spots available each month. If you are in need of a scholarship or have questions you can email Vivid Black Paint directly.
About Vivid Black Paint's Cirque Wellness Program
Having a unique specialty in such disciplines as aerial performance, fire breathing, acrobalance, or even clowning, is a highly marketable arts skill with opportunities for performance, instruction, and studio ownership.
​With circus, develop skills in problem-solving, internal and external conflict resolution, communication building, creative strategizing, and capacity building to break through self-maintained and societally reinforced barriers.
If you are ready to sign up for the club, you can sign up here!
We are also seeking sponsorships for youth. You can sponsor your youth's participation or, if you don't have a participating youth, you can become a Club Sponsor. The total cost per month is about $60/month per participant. If you are interested in sponsoring a youth to have access to more circus arts, please consider donating. Read more about sponsorships here! To become a sponsor, give your gift here!