Click Here to Register for Workshops
Aerial and Acrobatic Workshops & Pop-up Classes:
Check this page for our most current workshop and pop-up class schedule and connect with a range of talented acrobats!
*If you are unable to see our Workshop calendar, click here to view it.
Shannon McKenna (The Artist Athlete) – friday, Jan 19th, 2023 – Sunday, Jan 22, 2023
We are so excited to have Shannon McKenna visiting us in January 2023. She will be offering stand alone workshops and a 2-day Silks Intensive. More details about her and what will be offered below.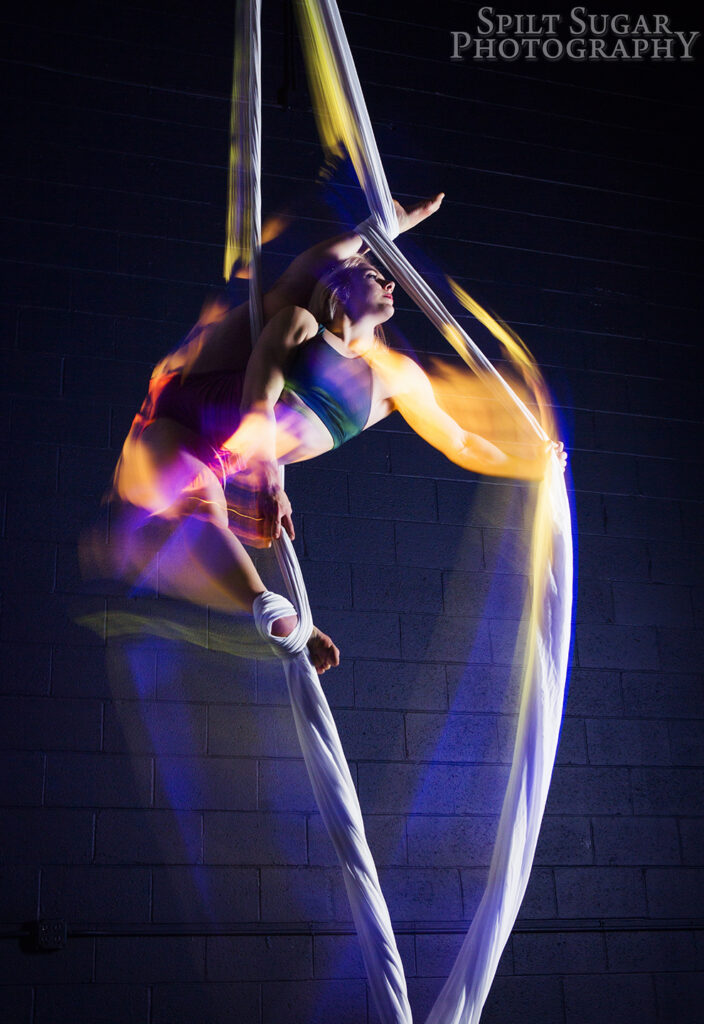 Thursday, January 19th
Leg Flexibility Training– 1 hour – 4:30pm – $35
Come for a hip opening, hamstring lengthening, toe cramping good time. This workshop is great for people looking to improve their leg lines in the air or on the ground. Prerequisites: the ability to breathe in, then out again multiple times. Also, must have legs.
Back Flexibility Training– 1 hour – 5:30pm – $35
Come for a chin lifting, rib cage widening, pelvis tilting good time. This workshop is great for those who want to strengthen and stretch their backs safely, and learn proper techniques to safely gain flexibility. Prerequisites: the same as for "Leg Work." Additionally, you must also have a spine.
Knot Tying with Style (Introduction to Fabric Theory) 2 hours – 6:45pm – $65
Never get stuck again! This workshop breaks down the basic components of "fabric theory" to explain how different wraps and drops work in the air. Using sequences and puzzles, we will play with different and surprising entrances and exits to popular skills. Great for anyone who wants to understand WHY fabric works, build more vocabulary, or pick up new sequences quickly. Prerequisites: Must be working on inversions in the air and confident with inversions on the ground.
Friday, Jan 20th – Saturday, Jan 21st
Continuing Education Silks 2-Day Intensive – $450
Take a weekend deep dive into your aerial silks practice! For those who just can't get enough, this two day intensive has creative exercises to help your explorations, conditioning drills to assist you with your strength and flexibility goals, and fabric theory to increase your overall understanding of the apparatus and tricks.
The goal is to provide you fresh information about the mechanics and biomechanics of aerial silks and reinvigorate your own aerial practice. This course is excellent for instructors who want to focus on their own practice and experienced students who want to explore advanced aerial concepts.

Skill Prerequisites for Students: 
Long arm hang on silks open fabric 30 seconds

Long arm hang on silks closed fabric 30 seconds

Clean single and double foot locks

Multiple clean

aerial inverts in the air (bent arm/bent leg is fine)

Clean cross-back straddle invert entry and exit

C

lean star drops, both sides
10am – 4:30pm (with a 1.5 hour lunch break) 3 hour morning session and a 2 hour afternoon session
*Please message us if you have more questions!
Sunday, January 22th
Inversion Clinic- 2 hours – 11:00am – $65
Going upside down in the air is the first step for many exciting wraps and drops, and when done correctly, a beautiful movement in and of itself. Yet, for many aerialists, inversions are elusive devils that can bring the most determined practitioners to tears. This workshop is dedicated to giving you the targeted help you need to get upside down. It is packed with drills on and off your apparatus so you can master your inversion- suitable for all body types! Prerequisites: A desire to work on your inversion, or a desire to do one for the first time. At least 6 months of aerial experience recommended, though not required.
Dancing Your Drops (Fabric Drop Workshop)- 2 hours – 1:30pm – $65
As aerialists, we seek control over our bodies at every moment we are in the air. When we are climbing and posing, this control is easy, however, it gets complicated when we try to drop! This workshop reviews several basic drops rotating forward, backwards, and sideways. We will explore how the wrap, the body positioning in the set up, and the body positioning during the drop can change the speed, shape, and aesthetic quality of the skill. This is a fun workshop for those who are looking to clean up their drops as well as add their own dramatic flair to the movement! Prerequisites: Must be able to cleanly invert and hold oneself upside down in the air.

Dance Straps- 2 hours – 4:00pm – $65
This workshop explores spinning, twisting, turning, and flipping using aerial straps. Going from the ground to the air and back again, this workshop explores movement, partnering, and flight! Prerequisite:  30 second straight arm hang on fabric or rope, 3 bent arm inversions on any apparatus
More about Shannon:
Shannon McKenna is a 10+ year international aerial coach, performer, and life-long student! In 2018, she founded The Artist Athlete to help bridge the gap in knowledge between "professional" artists and practitioners who use aerial arts as a creative outlet/hobby. Through her e-book publications, weekly podcast, and weekend workshops, she is dedicated to the growth of circus as an art form, particularly my primary focus: aerial arts! For more information, please visit her website: http://www.theartistathlete.com
Are you a traveling artist interested in teaching a workshop at Stomping Ground Studio?
If you're a professional aerialist or acrobat traveling to Minneapolis, MN, we'd love to host you! Consider teaching a workshop (or more) at our studio by reaching out to us here!
Past Workshops & Pop Up Events
December Pop-up Classes!
Throughout December, some of our regular classes will be replaced with pop-up classes! Choose from a plethora of subjects including:
Intro to Straps
Rope Palooza
Rope is Fun
Above the Bar Spanset Lyra
Lollipop Lyra
Duo Aerial
Experimental Partner Movement
Basic Floorwork Concepts
Floorwork Choreography
Belay for Days
Silks Theory
Beginner Circus
Each pop-up class is $25. You may use your class packages to purchase these one-off classes.
Also, check out Handstand Happy Hour with Lynn! Click here to read more about that!
WORKSHOP w/ Dr. Sherry Walling – friday, nov 18th, 2022
An aerial practice is many things: a performance art, a form of exercise, and a source of community. It can also be a healing practice. In this very special workshop local psychologist and aerialist, Dr. Sherry Walling, will help us explore how physical movement and artistic expression can support our wellbeing and emotional healing. Whether you're holding grief, battling depression, or struggling with anxiety, we'll find ways to move those emotions with your body.  You will be invited to participate in a variety of embodiment exercises, including options to work with the lyra, trapeze, sling, rope, or silks. Our evening will also include some individual reflection time and small group conversations. Please come prepared to move, and help create a healing space for yourself and for others. All levels of aerial experience are welcome. 

Circus for the Broken-Hearted
Friday, November 18th 2022
7:00p – 9:30p
$75 – This costs includes an SGS journal!
About Dr. Sherry Walling:
Dr. Sherry Walling is a clinical psychologist, speaker, podcaster, author, and mental health advocate. Her company, ZenFounder, helps entrepreneurs and leaders navigate transition, rapid growth, loss, and any manner of complex human experience.
She hosts the ZenFounder podcast, which has been called a "must listen" by both Forbes and Entrepreneur Magazine and has been downloaded more than 1,000,000 times. She was also the host of Mind Curious, a podcast series exploring innovations in mental health care via psychedelics.
Her new book, Touching Two Worlds, is a poetic, incisive exploration of grief and joy in the aftermath of loss. Her best-selling book, The Entrepreneur's Guide to Keeping Your Shit Together, combines the insight and warmth of a therapist with the truth-telling mirth of someone who has been there.
Sherry and her husband, Rob, reside in Minneapolis where they spend their time driving their children to music lessons. She has also been known to occasionally perform as a circus aerialist.
WORKSHOPS w/ THE CIRCUS DOC
Join Dr. Emily Scherb a.k.a. The Circus Doc for a day of learning! We will learn the biomechanics of a circus body, assessments, exercises, and more! You will leave these workshops understanding your own body better and have tools to unlock more mobility and strength to achieve your circus goals.

Core and Hips: Balancing Mobility and Stability
Our spine is made up of 24 vertebrae and our hips are made to roll and glide. How do we balance this natural mobility with the strength and stability demands of circus skills? In this workshop we will discuss how to harness this mobility to achieve splits, bridges, and beats and the biomechanics behind how it all works. We will also work on exercises to improve your mobility and strength at the same time!
Shoulder in Handstands and Hanging from Bent Arms to Planches
As circus artists we often use our shoulders to support our entire body weight. We may stand on our hands trying to press our bodies upwards into a handstand, or hang from our elbows, or with our arms extended behind us. In this workshop we will answer the questions How does the shoulder work in all of these positions? How can we be sure we are using the most mobile joint in the body safely? What can you do starting today to gain range of motion in your shoulders safely?
Training Strategies to Meet Your Goals
How do we get the most out of our training? In this workshop we will talk about what training does to our body and what happens when we take time off. We will discuss warm-ups, the most up to date stretching science, and how to structure training to match your individual training goals and needs.
About Dr Emily Scherb
Dr. Emily Scherb is a physical therapist with a lifelong passion for understanding human movement.
She's been a practicing aerialist for almost 30 years and has dangled from balloons, danced in the air, and swung from trapezes. That background inspired her to specialize her practice on circus and aerial artists. She has a proven track record of helping patients who have not seen results with traditional physical therapy due to her unique perspective on how the body works both on the ground and in the air.
As an educator, she travels the world teaching circus artists, instructors, and healthcare professionals about the unique physical demands and challenges of training the body to do incredible feats.
She received her graduate degree from Washington University in St. Louis and now lives in Seattle, where she works with professional and pre-professional circus artists. She is the Resident Physical Therapist at the School of Acrobatics and New Circus Arts and the Company Physical Therapist for the contemporary circus company Acrobatic Conundrum. Emily is on the board of Seattle Dance and Performing Arts Medicine which helps Seattle performing artists get the healthcare they need.
Her first book, Applied Anatomy of Aerial Artists, was published in August 2018.
Emily is an internationally recognized lecturer and has presented at conferences for organizations including Performing Arts Medicine Association, International Association of Dance Medicine and Science, American Circus Educators, and American Physical Therapy Association.
WORKSHOPS w/ CIRQUE DANCER
We're so excited to welcome Sofia Rodriguez aka Cirque Dancer to Minnesota for lyra workshops on November 5th and 6th. She will be hosting workshops at SGS and at Phoenix Flight.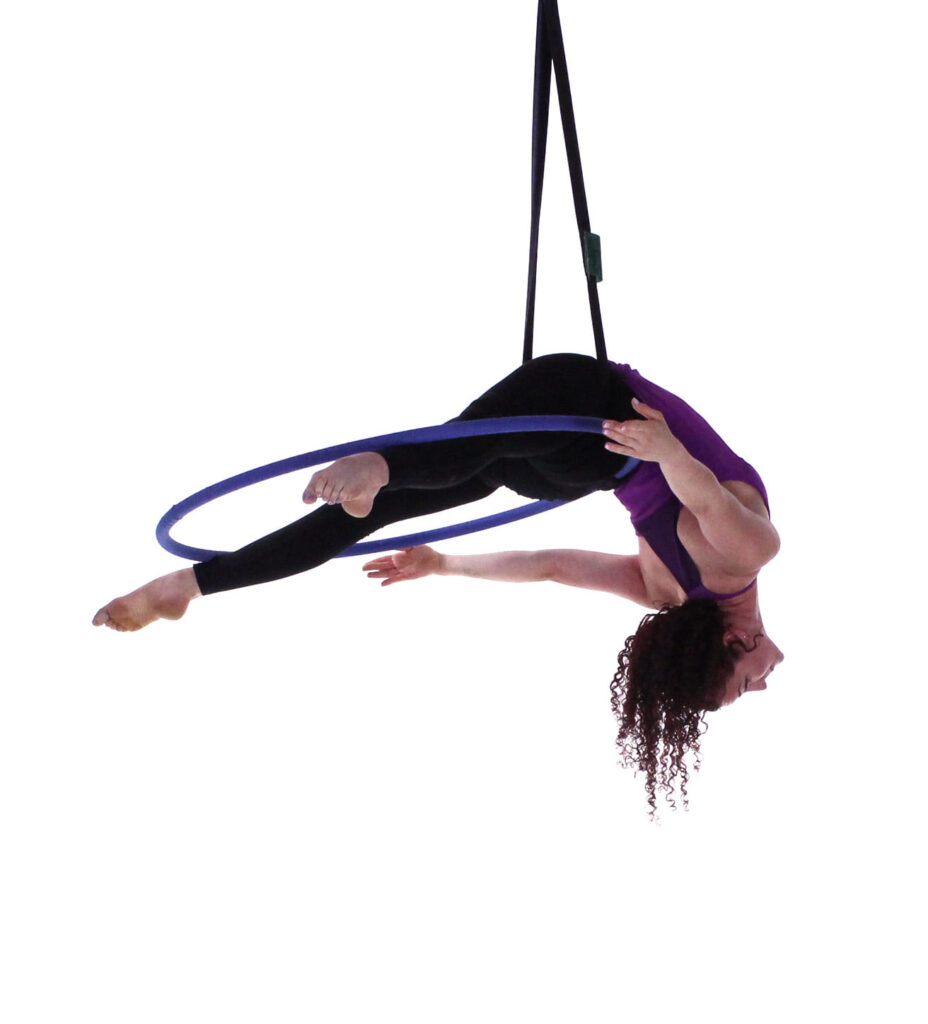 Pirouettes & Arounds the Worlds
Some of my most sought after sequences on Instagram came from my exploration with pirouette turns and around the worlds. If you struggle with these transitions, not a problem, I will also be giving you tips, tricks, and drills on how to make these more accessible. Pre-requisites: Must be able to do 3 pull-ups and invert.
Lion Rolls
Lion entries, exits, and rolls, oh my! In this workshop we will explore unique entries and exits out of lion in a tree. We will also look at the many types of 1/2 & full lion rolls (also called snake rolls or music box). Come learn all the tips and tricks on how to make these rolls more attainable! Please bring sleeves to class. Pre-requisites: Must feel comfortable inverting, must know how to get into lion, knowing inverted man in the moon is a plus, but not necessarily required.
About Cirque Dancer:
Sofia has been expressing herself through movement since she was five years old, beginning with the study of Ballet and Jazz in her hometown of Monterrey, Mexico. She moved to Austin, Texas at the age of 10, and her involvement in dance was slowly replaced by other responsibilities.
It was not until she was working as a 4th-grade teacher that she turned back to dance as a pastime. That is when she discovered aerials and contortion. After several years of practicing as a hobby, she decided to leave teaching and become a professional performer and instructor.
She is in her 6th year of teaching aerials and currently teaches in Colorado. Her specialty is single point lyra with a focus on creative pathways, artistry, and technique.
(Intermediate-Advanced) Want to learn how to conserve your energy while getting the best shapes, and lines? In this workshop Kevin will teach his intricate style of threads, bends, climbs, and drops. Students should be comfortable climbing the fabric. Prerequisites: Students should be comfortable in a single knee hang without assistance.
(Beginner-intermediate) Students will learn how to flow on the hoop with the greatest of ease. Explore the different ways of using the bottom bar, middle, and top of the hoop, to create sequences that maximize energy conservation.Signature tricks and transitions will be taught throughout this workshop.
(Intermediate-Advanced) Students will practice the 3 major hangs on the bar (Heel, Toe, Neck). Through gradual stepping stones, and proper technique, students will safely navigate these nemesis moves. Prerequisites: Students should be comfortable in a single knee hang without assistance.
Static Trapeze I – Tactical Technique w/Camille Swift
Augment your technique on static trapeze by learning the key concepts behind dynamic movement and fundamental drills designed to increase power and efficiency. Beneficial to any student, beginning or advanced.
Single-Point Trapeze w/Camille Swift
Take your trapeze skills to the next level and learn to move with confidence on a trapeze that spins, orbits and swings! This workshop will focus on spin technique and flow sequences that work well with orbiting, spinning, and swinging, in addition to single-point beat styles to add extra power and flourish to your movement. Students must be able to pull over from standing on the floor with trapeze at head height and have strong single-knee and one-arm hangs.
Character & Artistry – Any Apparatus w/ Camille Swift
Learn how to explore your own inner world in order to create the language of your aerial act. Everyone knows the importance of interesting transitions, but what is "quality of movement"? Learn to find the right rhythm between tricks, punctuate a particular shape, and convey emotional tone through movement. Explore the infinite possibilities of shape, movement and expression. Shake up your usual habits and discover a spectrum of creative movement, from bizarre to beautiful, pretty to peculiar.
Stop, Drop, & Roll Advanced Lyra Workshop with Jenna Ciotta
This course is for the accomplished hoop artist who has a great level of comfort on the bar, but isn't sure how to approach training for large, dynamic skills. We will discuss beat theory and how to generate momentum from various hanging positions, including some less common positions (ankle hang beats, anyone?). We will work progressions for skills such as elbow circles and inlocates, cutaways, casting from bottom bar to top, knee beat half-twist to hand catch, and more upon request.
Creative Movement Workshop with Juliana
In this workshop, Juliana Neves will lead a session of dancing, improvising, creating, and composing together. The workshop starts with a warm-up, including some floor work, dance acrobatics, and small choreographic phrases. The workshop moves into the creative part, where she will share paths and tools with some specific themes and tasks, based on free and guided improvisations. We ask questions and try to answer them physically.