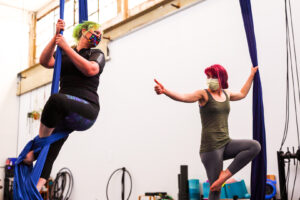 Join open gym times to practice material you learned in class.
This open gym is for GROUND ONLY. Sign up for this if you want to do some ground training like handstands or flexibility or sign up for this option to use our new Lollipop Lyra!
This skillshare is for folks who are comfy training partner acrobatics without instruction. Folks who practice acroyoga, cheer, hand to hand or other styles of partner acro are welcome. Come utilize our belt to help with those scarier moves!
Training Handstands can be such a solitary endeavor, so come join Lynn in the studio to hang out and train handstands. It's not a class, but a time to practice with other folks who love to be upside down on their hands. There just might be games… All levels welcome. Scheduled to happen on the last Friday of every month!
Vivid Black Paint will host an Affinity Group and Circus Jam for BIPOC circus artists every 4 weeks. The first 45 mins is for Affinity Group discussion around challenges, perspectives, and benefits of being BIPOC in the current circus climate. Attendees will also focus on building opportunities for curating more of a supportive and connected circus arts community in the Twin Cities. After the meeting we will dive right into the Jam where we will share skills, hang out, and take up space.
*If you are unable to see the calendar, click here to view the calendar: Open Gym & Acro Jam 

In collaboration with Vivid Black Paint, we are offering a $5/class discount for persons identifying as POC. Please contact us for the code!
Check out our Class Schedule here.