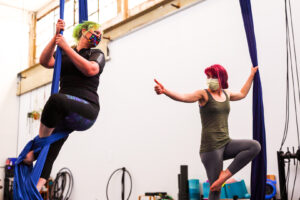 Join open gym times to practice material you learned in class.
This skillshare is for folks who are comfy training partner acrobatics without instruction. Folks who practice acroyoga, cheer, hand to hand or other styles of partner acro are welcome. Come utilize our belt to help with those scarier moves!

In collaboration with Vivid Black Paint, we are offering a $5/class discount for persons identifying as POC. Please contact us for the code!
Check out our Class Schedule here.