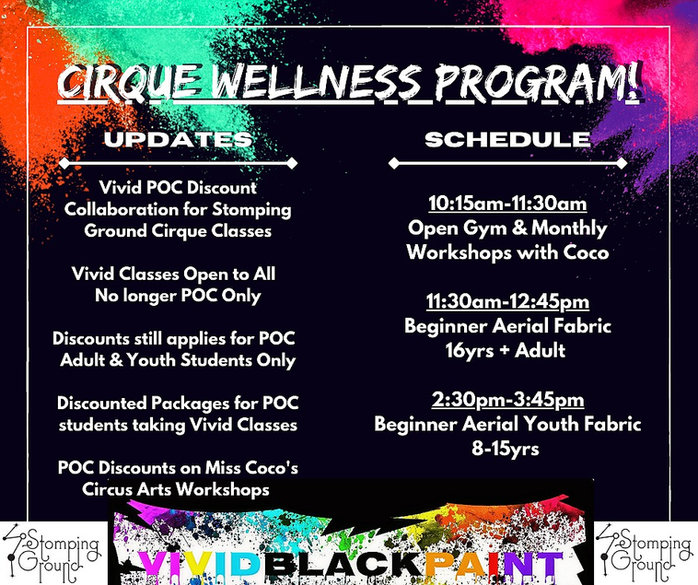 We are so thrilled to be collaborating with the amazing organization Vivid Black Paint.
A Bit About Vivid Black Paint (from their website)
Mission
V
ivid Black Paint provides supportive programming to Honor and Uplift Aspiring and Established Artists who identify as black and as persons of color and to provide welcoming space for people to smile, laugh and be entertained with circus and art as a vital service to mental well being and social-emotional development.
Purpose
Vivid Black Paint is a non-profit corporation and shall operate exclusively for educational and charitable purposes within the meaning of section 501c3 of the Internal Revenue Code, or the corresponding section of any future Federal Tax Code.
To maximize impact and reach, we may collaborate with other initiatives and entities. Vivid Black Paint accomplishes Our Purpose through events and supportive programming for established and aspiring black artists, indigenous artists, and artists of color to provide their Creative Services to the world and build up their Supportive Networks. We also serve the community at large with joy and entertainment, primarily through art and circus.
Our Programming allows space for our artists to come together, build community, collaborate, exchange, mentor, and witness one another's art.
Vivid Black Paint will also provide career pathways, internships, and volunteer opportunities within the organization for our artists. In turn, further deepening Vivid Black Paint's Impact and Mission.
Take a Class
In collaboration with Vivid Black Paint, we are offering a $5/class discount for persons identifying as POC. Please contact us for the code!
There are also 4-class packs for persons identifying as POC available to purchase for Vivid Black Paint classes. This can be purchased here.
Check out more about this amazing organization here! https://www.vividblackpaint.org
Donate to Vivid Black Paint!
https://www.gofundme.com/f/vividblackpaint-community-house
​