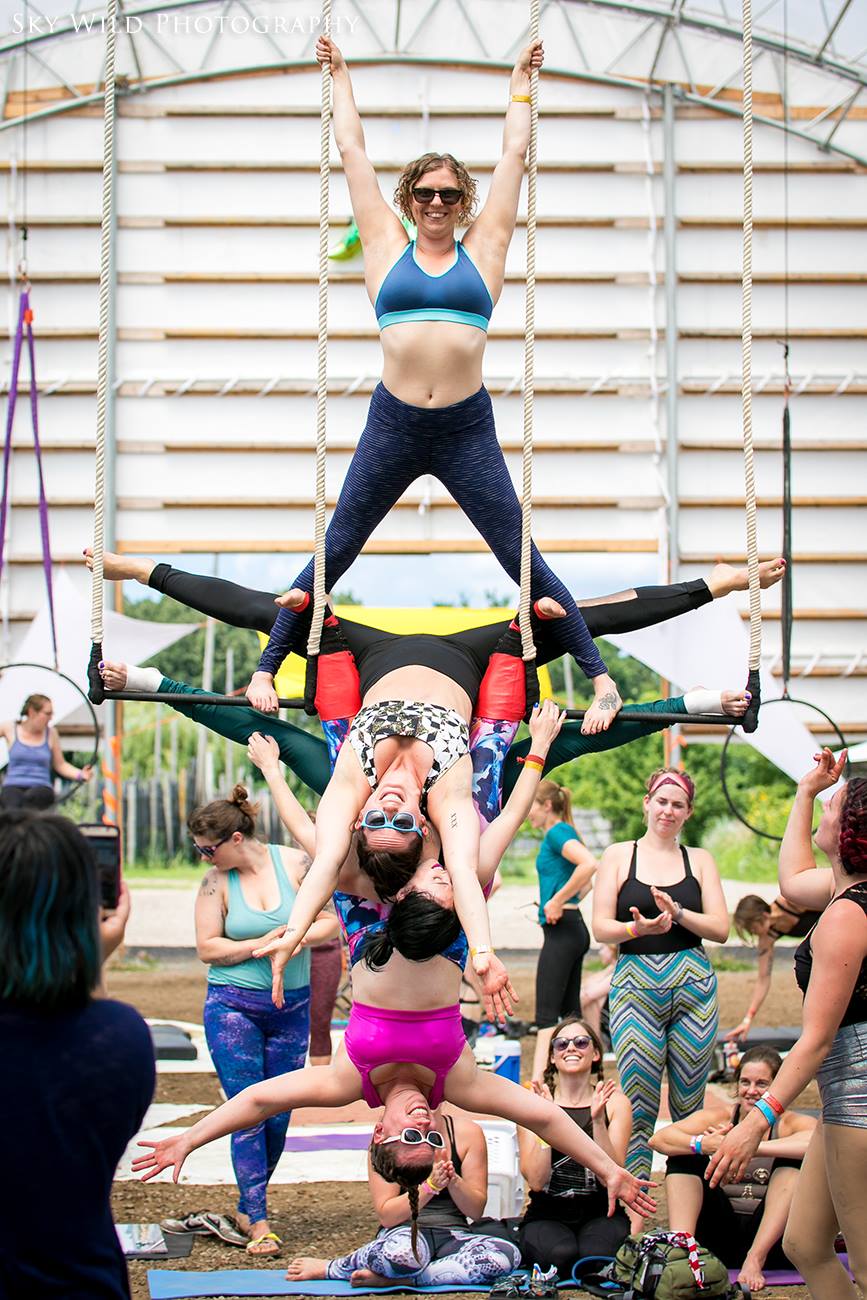 The Circus is Calling…
Every summer, the circus comes rolling into southern Minnesota. Jugglers, aerialists, and flow artists gather from around the country for CampFire – a 4-day, 3-night gathering that creates a space to share, learn, perform, and grow the community. 
From July 25th-28th, Harmony Park in Clarks Grove, MN will be home to premiere circus artists from the Midwest and beyond. In conjunction with Flow Arts Institute, the event is organized by a dedicated group of flow and aerial artists with help from dozens of volunteers. 
Zyra, owner and coach at Stomping Ground Studio, has been organizing the aerial and acrobatic offerings at CampFire for an impressive 10 years. 
"I'm involved with CampFire after all these years because I love the community we create," she says. "I love meeting new inspirational artists and learning from them, and especially love being with all these wonderful people under the white oak tree forest that is Harmony Park."
But why do hundreds of others return to CampFire year after year? 
Why do participants travel from across the country to attend? 
Why is it worth shelling out some cold hard cash to join them yourself?
Below, we've highlighted the four most compelling reasons to run away and join the circus this summer. 
1 – New Teachers, New Tricks
Ever hit a plateau?
If you've been going to the same studio or been living in the same city for years, chances are good you've seen some reused and recycled material. 
That really cool transition that used to thrill you… Yawn.
That new skill that was going around Instagram for days… Old news.  
The truth is, the longer you train, the more you're bound to start seeing skills and ideas repeated.
Just like taking a vacation from your daily life can revive your perspective, learning from an instructor or from colleagues outside of your regular community can totally refresh your imagination – and your skills. 
"I focus on bringing in artists from all over, including artists from Vancouver (Canada), Toronto, Iowa, Florida, Michigan, Wisconsin, Missouri, Colorado, Washington, and more," says Zyra.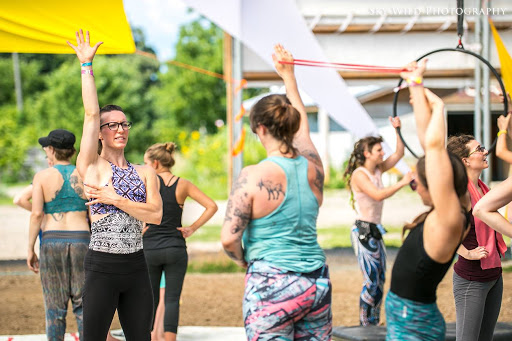 Sarah Chien, four-time CampFire attendee, also sees the value in learning from out-of-town teachers. "Camp Fire has improved by skills as an aerial/acro/flow artist by exposing me to coaches and teachers I may not have otherwise gotten to learn from."
 You too can level up by working with someone outside your regular circle. 
2 – Mix It Up with a New Prop/Apparatus 
We bet you have your favorite toy.
Maybe you only do lyra, and loathe aerial silks.
Maybe you're always on the ground and never give a thought to flow arts. 
While no one is going to force you to take a break from your favorite prop or apparatus, you just might be surprised when you branch out and try something new. 
Six years ago, Matt Davis had never breathed fire. And look at him now…
"Literally all my fire skills started there," he says. Matt's since become a regular fire and flow artist, but it all started with dabbling.
At CampFire, you'll have the chance to try out juggling or contact staff, then learn some skills on mini-hoop. Recharge with a yoga class, then come back to hit it hard on aerial chains. 
Expand your repertoire of props and skills, and see what inspiration it ignites in you. 
3 – Grow Your Community
It's a well-known trope that in Minnesota, social circles can be harder to break into than a frozen lake. CampFire is an opportunity to break out of your bubble and build a bigger network. 
Anastasia Svila has done just that in their two years at CampFire. "I met many aerialists and flow artists that I later connected with on Instagram, helping expand my community!"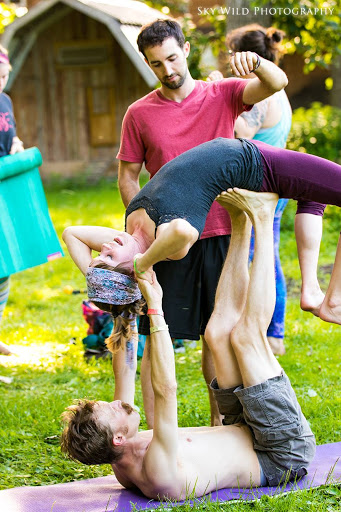 Attendees come from many different studios and several different states, contributing their diverse knowledge and experience to workshops. Even getting to CampFire can be an opportunity to connect with someone new, like Natalie Doud has done. "I really enjoyed driving down from Seattle to Minnesota with Exuro Piechocki and the rest of the bus crew," she said. 
While you're learning, challenge yourself to partner up with somebody new, or strike up a conversation with someone from out of town. 
The connections don't stop when workshops are done. With nightly fire circles and plenty of social spaces, you'll have endless opportunities to make…dare we say it…new friends!
4 – #Goals
Find someone who was at CampFire in 2016 and ask them about the act performed by straps artist Laura Griffin.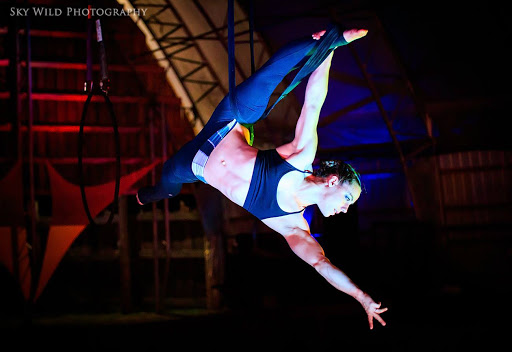 After they pick their jaw up off the ground and roll their eyes back into their head, they'll probably give you this review…
 "AMAZING."
After four years at CampFire, Vera Sky can attest to the talent of the Saturday night Showcase performers. "I have seen showcase performances that were so inspiring they have brought me to tears," she professed. 
CampFire is not only a hub for curious students and phenomenal teachers but also world-class performance artists. We're talking about the kinds of performances that leave your eyes shining and your hands itching to go train for hours. Their performances will undoubtedly dazzle you with moments, transitions, or elements of style that you've never seen before, and inspire you to take your own skills to the next level. 
---
Whether you're at the beginning of your aerial education or have been training for years, CampFire is a chance to freshen your perspective and connect with a host of innovative, unique artists. 
Pre-purchase general admission tickets are still available for $165.
With 14 workshops over two days, that works out to less than $12 per workshop.
You don't need us to tell you that's the deal of the year. 
Now, we want to hear from you. 
What do you hope to gain from this year's CampFire? 
Use the buttons below to get social and tell us!